PROJECT:
NANONEEM – SAFE BIOPESTICIDE SOLUTION FOR GREEN FUTURE
NanoNeem offers transformation toward green, pro-health and environmentally benign pest control practice at affordable price. By combining the naturally available defense mechanism against pests in neem and other herbal plants with state-of-the-art nanotechnology, NanoNeem has excellent penetration properties, thus significantly enhancing the efficiency of natural ingredients.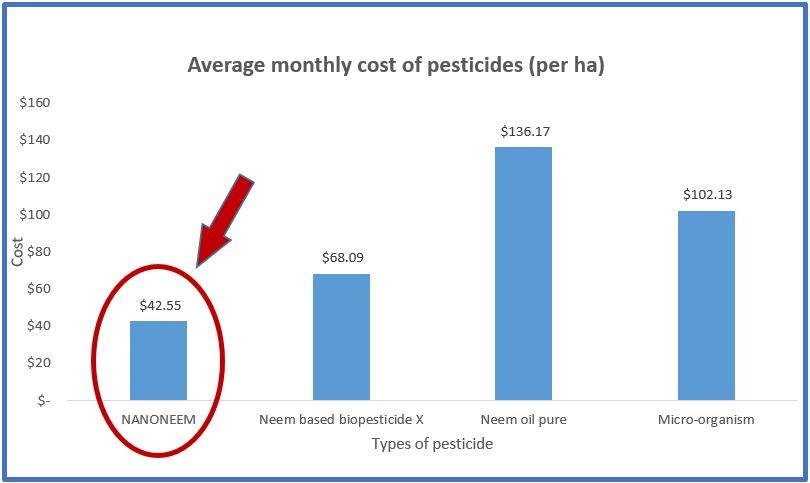 NanoNeem is easy to use with a short waiting time and minimized environmental footprints, thus benefiting the farmers and community who are consuming the final agricultural products. It also helps solve the emergent issue of chemical pesticide overuse, protecting neem forests while improving income for local people by sustainably harvesting neem seeds and leaves.
SOCIAL SOLUTION PROTOTYPE:
CROWDFUNDING AND CROWDSOURCING'S PLATFORMS
Since Vietnam does not have a legal corridor for crowdfunding, there's no local online crowdfunding platform permitting users to call for financial resources (some had been launched but shut down immediately after). Moreover, it is quite hard to convince Vietnamese people to donate to something online because cybersecurity here is not strong enough leading to a self-defensive mentality, which creates such a big challenge for our team. We have also discovered some famous crowdfunding platforms, but none of them supported our location due to strict policies and transaction fees. Therefore, we decided to follow these two strategies:
First strategy: Directly contact and invite partners/sponsors to build a strong strategic capital and find symbolic capital to remain a good financial foundation, and also create a trust for the second strategy through partners who are social-recognized. 
Second strategy: Launch a crowdfunding campaign through social network – our Facebook page "NanoNeem – Thuốc bảo vệ thực vật tự nhiên". Also, we spread the campaign throughout some green-living communities and health-oriented groups to reach a bigger audience.
In the first strategy with people who are strategic backers, we believed that they could make the contribution because our business and theirs are sharing the same social purpose, desiring to turn the orientation of Vietnam agriculture into an organic one together. In return, we can develop our product in both quality and quantity aspects to support them later, and share profit to sponsor other social-oriented start-up projects in the future. Strategic backers can provide us with money, besides maybe technology, factory, machine, labor,… We contact them directly to receive their support.
In the second strategy, we raised funds from community backers through social networks. In Vietnam, more and more green-living communities appear, and they also share the same social values with us to improve people's health and protect environment from toxic substances. In this stage, we offer different rewards depending on the amount of donation in VND as follows:
50.000 – 250.000 VND ($2-$11 USD): Thank you email & Gratitude certificate; Voucher discount 10%; A NanoNeem bottle of 100ml capacity.
250.000 – 500.000 VND ($11-$22 USD): Thank you email & Gratitude certificate; Voucher discount 20%; A NanoNeem bottle of 250ml capacity.
500.000 – 1.000.000 VND ($22-$44 USD): Thank you email & Gratitude certificate; Voucher discount 30%; A NanoNeem bottle of 500ml capacity.
Over 1.000.000 VND (>$45 USD): Thank you email & Gratitude certificate; Voucher discount 30%; A NanoNeem bottle of 500ml capacity; A set of tree-caring products.
We ran this campaign within 42 days, from 6th June to 18th July. With this campaign, we plan to raise 50.000.000 VND in cash ($2200 USD approximately) and raise awareness of community about a green product at its finest. Backers can donate to us through internet banking and leave us their information, and then we will contact them again to confirm and promise to ship their reward (if yes) before 1st August.
THE ASK AND THE CAMPAIGN'S RESULTS
THE RESULT OF THE CAMPAIGN IS: 1208.41 USD
This result is only calculated from 6th June to 24th June (24 days left).
CROWDFUNDING
Online platform: NanoNeem has received a positive reaction from the public after nearly half of the campaign, thanks to significant marketing and outreach to green groups. As of June 24, we have received 17.800.000 VND in cash (approximately $774 USD), with the contributions of 22 donors including our existing customers, potential partners, and sale agents. We appreciate immensely the support from the community. These donors show that they put their trust in us and share the same desire towards environmental protection, human health, green agriculture, and sustainable development.
Offline: International University is an angel investor while donating us 10.000.000 VND in cash (approximately $430 USD) in case to support and encourage the entrepreneurial spirit of the team. The school's personnel and instructors always supported and supervised the team's activities during the tournament, giving us additional energy and drive to compete.
CROWDSOURCING
Fortunately, NanoNeem has gotten a lot of support from mentors, universities, the startup community, and particularly the green living community to help spread the word about this initiative as much as possible. As follows:
Online platform:

+ Connection to 4 WAY FRESH VIETNAM (an Australian-based company) and offer to test Nanoneem on their farms.

+ Suggestion to new customer segment – insect control in garden coffee shops – from garden coffee TINH NHO.

+ Introduction to HAI AGROCHEM JOINT STOCK COMPANY – one of the biggest agrochemical companies in Vietnam – for potential collaboration. 

+ FOREIGN TRADE UNIVERSITY & INTERNATIONAL UNIVERSITY: The professors at these two universities have been extremely supportive of the project. The professors recommended making an offer letter to help to post on Facebook page to spread projects to the academics in order to solicit crowdfunding and distribute the project's social worth. Furthermore, the team's mentors are also from these two colleges, and they have been really helpful and have provided us with several helpful recommendations in order for us to create and execute such a project.

+ Besides, our main Facebook page garnered total of 5222 likes, 1105 engagements, and 34 shares in a short period of time. It is a wonderful pleasure for a company conducting such a project for the first time to have such a positive response from the community.
Offline:

+ THAI DUONG FERTILIZER SERVICE TRADING COMPANY LIMITED: donates 100 bottles of 100ml organic fertilizer from fish and shrimp. Thai Duong Fertilizer specializes in providing organic fertilizer for all types of crops. These products help to improve and supply nutrients to the soil. Their mission is the same as ours – towards green agriculture, limiting toxic chemicals that adversely affect the environment and human health. They donated sample products so that we can introduce their fertilizer to our customers.

+ APPLIED MICROBIOLOGY JOINT STOCK COMPANY: composts activator samples for 1000 kg waste. Applied Microbiology Joint Stock Company (EMUNIV) specializes in researching and applying microbes to treat agricultural or environmental waste, making organic fertilizers while protecting the environment. We share similar missions of creating a safe, environmentally friendly agriculture that contributes to sustainable development. We support each other to bring ultimate solutions to farmers and enhance customers' awareness of environmental protection.
NANONEEM'S TEAM MEMBER:
NANONEEM'S MENTORS & ADVISERS
Source: https://socialbusinesscreation.hec.ca/competing-projects/SBC2021_139_VN_NANON/